News
Conference Presentation on "Gender Transgression"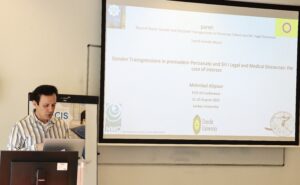 My talk at ECIS 10 (Leiden 21-25 August 2023) was entitled "Gender Transgression in Premodern Persianate and Shiʿi Legal and Medical Discourses: the case of intersex." It was part of our panel on "Gender and (Un)Belief Transgressions in Persianate Culture and Shiʿi legal Discourses."
Abstract:
The present traditional Muslim and

 

orientalist approaches

 

assert that Islam is intolerant of

 

trans-genderism or non-binary sex/gender divisions.

 

By contrast, Islamic medical and legal discourses on sex and/or gender are oftentimes surprisingly more

 

flexible

 

than one might expect. Although the dominant discourse in premodern Islamic culture amplifies a dichotomous of sex/gender, I

challenge the exclusive binary notion of gender in Islam and Persianate cultures.

To elaborate,

on the one hand, a number of classical Persian medical experts have

transgressed the gender norm and

apparently suggested a discourse on non-binary conceptions of sex/gender. On the other hand,

a group of

 

Shiʿi jurists, notably since the post-classical period

 

of the 14th century,

have categorised indeterminate intersex people as a

 

third nature

 

(third sex and/or gender).

Focusing on two premodern treatises entitled "

Risāla fi al-ubna/

al-Dā' al-khafī (the Hidden Illness)" and "Risāla fi al-khunthā,"

composed by the physician Muḥammad b. Zakariyyā al-Rāzī (d. 925) and the jurist Sayyid Muḥammad Kāẓim al-Ṭabāṭabā'ī al-Yazdī

(d. 1919) respectively, I shall examine the aforementioned legal and medical assessments of

 

intersex

 

as illustrations of non-binary conceptions of sex/gender in Shiʿi and Persianate cultures. I will also elaborate on how these two figures debated and classified intersex nature within various human categories.
*The pictures were taken by Narcis Frotan.